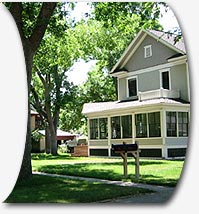 If you're thinking of buying a home, there's no better way you could spend your time than to make an appointment for a first meeting with us. Call us at 303-444-6660 or 800-424-3355 to make an appointment. We'll work around your schedule.
No reason to be wary of coming in to meet with us. We will never ask you to sign a Buyer Agency Agreement at our first meeting. In fact, we'd prefer that you don't.
And we promise not to follow you home. There'll be no obligation, no hype, no charge, no kidding. We spend as much time as you need.
Our consultations are geared toward helping you find out how much you can afford, where you can find your home, how to go about getting it, how to stay out of trouble while you're getting it, and how to know you've negotiated the best price and terms possible.
We'll cover the process of finding, inspecting, financing and closing on your home. We'll inform you about current market trends and conditions, and help you become familiar with the paperwork and costs involved. We'll even let you in on some "secrets" of the trade.
Of course, we hope you'll decide to let us work for you. We truly believe that we offer the best service for homebuyers at no extra cost to buyers, but we won't call you unless you ask us to. Contact with us later is entirely up to you.
We love what we do. Call us.